Partners

FRANK - High Pressure Cleaning - without parallel
Frank GmbH, based in Sinn-Fleisbach, Herborn in the federal state of Hessen (Germany) develops, manufactures and sells professional cleaning equipment with high pressure cleaning, dry steam cleaners, self-service wash stations and accessories. The full range of pressure cleaners comprises gas, oil and electricity heated and unheated mobile and wall-mounted machines.
TRADITION - More than 400 years FRANK
FRANK brand is built on corporate tradition of more than 400 years: from the middle ages to the computer era.

Together with the company Osprey Deepclean International Ltd., FRANK manufactures and sells dry steam cleaners under the brand OSPREYFRANK Steam Technology for different purposes (food processing, manufacturing, hospitals, maintenance of the vehicle interior, hotels, restaurants, etc.).

Our machines and plants can be provided with different control options, e.g. with the TCC electronic remote control, unique world-wide and enabling the operator to choose the programs directly on the spray gun.
Self-Service Wash Stations - an innovative technology combined with modern design.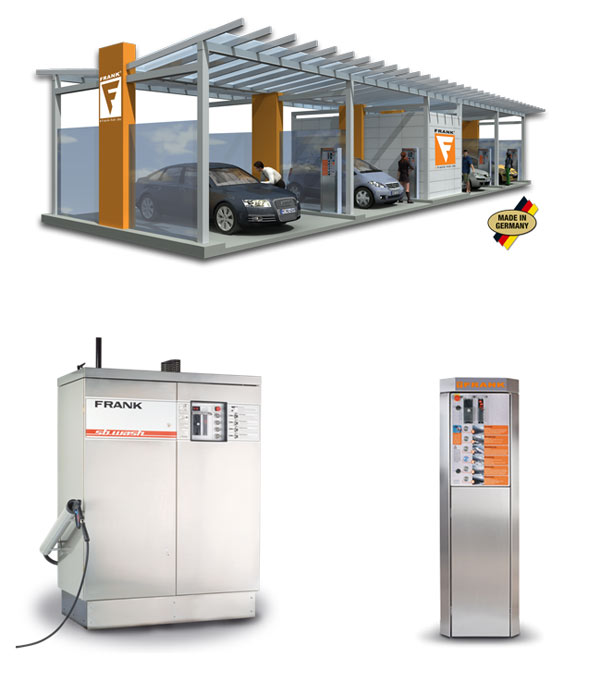 Professional and attentive care for cars and seamless service for customers, technical merit and profit for service providers: FRANK self-service wash stations - diesel, gas or electric heat, liquid or powder detergent and modern technology as Tuch-Screen SPS-Control.
-----------------------------------------------------------------

Azett is a leading manufacturer of products for cleaning hands, hand cleaners with industrial application, products for car washes, hotels and restaurants, personal care products and cosmetics.
All Azett products are tested to the high standards of our international clientele. Based on GMP practices for cleaning chemicals and cosmetic GMP for our hand cleaners insure high quality and qualified product performance. Our continued research and development assures environmentally safe products whilst assuring cost effectiveness.
We offer a broad range of products in the areas of hand cleaners and general maintenance products. Azett is the partner of choice when it comes to problem solving in all cleaning problems.

For the consumer Azett has a line of Dead sea salt cosmetics with shampoo, shower gel and creames that help in easing skin problems due to psoriasis. These products can be found under www.alpencosmed.com
Azett also manufactures a complete range of industrial cleaning products for kitchens, homes, and industrie. The range includes high pressure washer, floor cleaner, glass cleaner, ware washing, linen washing and toilet cleaning

Azett produces a special range of products for car care and maintenance of vehicles under the brand Verno, including products for interior and exterior cleaning, polishing, plastics, tires, coupe, glass cleaners, upholstery, wheels, insects. Different types of lubricants, rust converters, degreasers and protective coatings for engine wires and rubber compounds